Snapshots of the year
A Senior uses his passion to document his final year at BHS.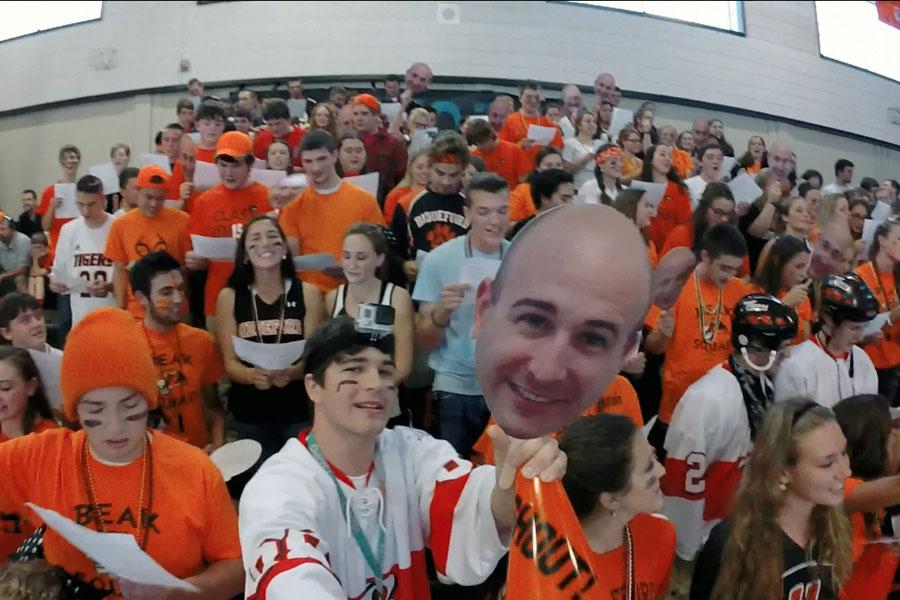 People use yearbooks in all sorts of ways, such as writing friends a lovely end-of-the-year letter, to get contact information to keep in touch, or to permanently engrave memories of the year in a tangible object. Instead of the traditional printed out pictures or a public Facebook album to remember the memories created during the school year, a senior is doing things a little differently using a beloved passion of his.
Senior Evan Loignon is creating his final yearbook with a twist: it's a video, and shot from a GoPro. GoPros are tiny cameras that are used in extreme action photography. Loignon likes that it's so small and handy.
"There's a bunch of different ways you can use it; a bunch of different modes, and a bunch of different mounts," said Loignon. "And it's wide so you can get everyone."
Since it is a handy and affordable camera with high quality lenses, it made sense for Loignon to choose a GoPro to shoot his yearbook, even if he hasn't had it long.
"I got my GoPro during the last two weeks before summer ended, so I'm kind of still learning," Loignon said.
As he learns more about his own camera, he has already had some close calls with it.
"It was after the football game, I was hurrying, so I just chucked stuff in my car and I walked off," said Loignon. "I go back, and I can't find my GoPro on me…it was under the whiteboard in my car [the whole time]. I freaked out and ran around the field for an hour trying to find it."
Even so, his new camera seemed a perfect fit for his book. Loignon got the idea of creating a video yearbook from one of his friends from TA who created a "yearbook" for her summer, saying it was "awesome." This then sparked his own idea to do it for the full year. It won't be an everyday thing, but Loignon has plenty of ideas on how to fill his "book."
"It's just a thing to take us through our senior year," said Loignon. "[I will film] different things, like first day, homecoming, the Beak Squad…just so we have something to remember."
On the days there aren't events, games, or something big happening in the school, Loignon said he would fill his video yearbook with pictures from the weekend and other things that his friend group does.
Although this idea of a video yearbook is new and spontaneous, Loignon's passion to wield a camera and shoot a moment that will last forever started at a very young age.
"[I started doing photography] eight years ago," said Loignon. "My aunt had a camera and she'd always let me use it, it was a really nice camera too, a DSLR interchangeable lens one…that's where it started, which was always just being around and outside and taking pictures."
From then on, photography was something Loignon loved, as he is still astounded by it to this day.
"It always amazes me how you can capture a moment [with the camera] and that moment will never happen again, but yet you have it shot here," Loignon said.
Out of all the beautiful moments life has to offer, Loignon does have a favorite.
"[My favorite thing to photograph is] the night sky, because you can get the stars going across the sky, which sometimes you can never really see," said Loignon. "But if you do it right you can see things that aren't really there."
With the power to shoot stunning images with expensive lenses and mounts comes unforgettable memories, whether they be good, bad or ugly.
"[One time] I was taking senior pictures of Adam Michel, and I was in the mill in a spot I shouldn't have gone..and a guy comes out and starts yelling at us that we can't be there and I said, 'Oh I'm sorry, my parents know the owners," said Loignon. "He asked me who my mom was and I told him, and that my mom works with his [the owner's] wife; then he said 'Oh yeah I'm him by the way.' In my head I was like 'Oh my gosh'…I could have gotten into a lot of trouble if I had gotten angry with him because I was already kinda trespassing."]
Stories such as those could be forgettable, but with a snapshot of the day can flood back memories and the times people have shared, which is what Loignon captures. Although some things are not planned when a moment is captured, Loignon has a plan to take a snapshot the lives of his friends and fellow classmates alike in his video yearbook.
"When we throw our graduation caps and they hit the ground, I can make it so they come back up with a white flash, and then it [the yearbook] is going to go all the way back through our years together," said Loignon. "From pictures of sophomore year, freshmen year, 8th grade all the way back to when we were kids. Then it's going to flash back and we'll be done…it's like the grand finale."
Once the yearbook is complete with edits and all that jazz, Loignon has plans to sharing the book.
"I'll probably give it to my friends, and have a screening party," Loignon said.
Loignon's yearbook is a new creative way to re-create everlasting memories that eventually have to end, because like all books, whether they be big, small, hard copied or virtual; they all must eventually finish. Yet unlike books, Loignon's passion will never cease.