BHS football potential move to class B
Decision to move down from class A needs to go through one more step to make it official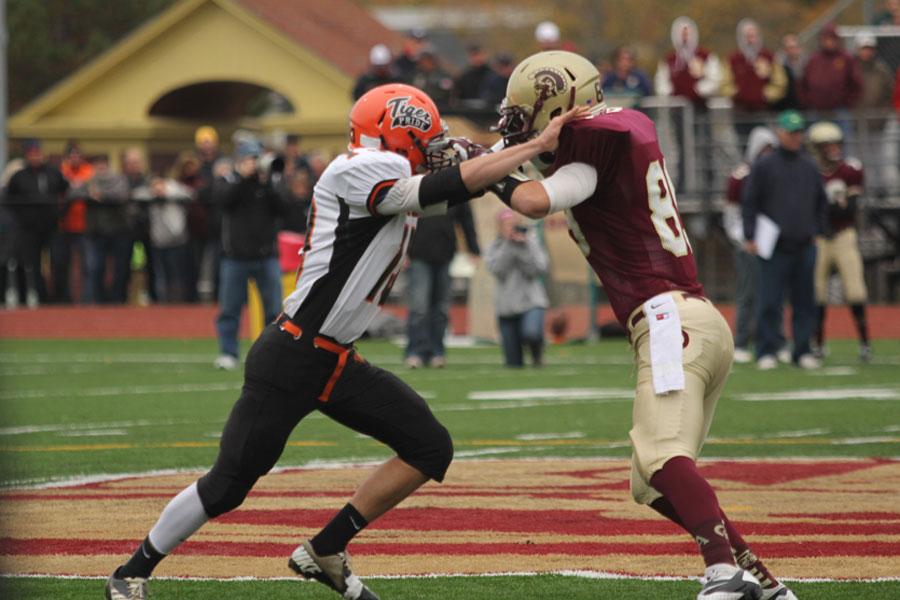 Biddeford High School to move down to class B after playing in class A for as far back as BHS football history goes.
The class A cutoff for football is 875 students in a school, yet Biddeford still manages to compete with only 830 students. This gives the other teams an unfair advantage to choose from plenty of well-trained players for backup when one is injured.
Dennis Walton, the Athletic Director at BHS, has played a major part in the potential move down to class B. Although there is no confirmation that football will move down to class B for the following 2015 season, it has already been approved by the school board.
"We've gone through all of the necessary hurdles to get to this point but we still need to go to the Maine Principal's Association (MPA)," said Walton. "The final say will be coming from the inter-scholastic management committee."
Two years ago the MPA realigned from three classes to four, adding in class D which bumped Biddeford into the class B category. Brian Curit, head football coach for the Tigers, believes that people thought Biddeford was moved because they couldn't compete anymore.
"What ended up happening was we had this community of about 25 people that said they didn't believe Biddeford should be moved and we should petition to stay up in A," explained Curit. "At that point everybody that spoke about the potential move said 'no way Biddeford is staying in A'."
Despite what many may think, a team is placed in a class based on their population, not by wins and losses.
"There's a stigma I think around here that class A is the best and class B the next best, but it's not like that," Walton said.
Many people still question as to whether or not other sports would remain in class A. Fortunately the other teams have just the right amount of students needed to continue in class A.
"Because there are four classes in football the threshold is different in each sport," said Walton. "Most sports only have three so when you divide the classes into four it drops that number significantly as opposed to three."
Even though Biddeford football holds a place of pride in our community, the most affected by the decision to move down to class B will be the football players themselves. Lucas Rhoy, full back for the Tigers, thinks that the team would do really well in class B.
"I don't mind it I guess, it's going to be depressing not playing all the teams that we normally play," said Rhoy. "I feel like it'll be easier but not as enjoyable."
One of the most upsetting aspects of the potential move down would be the possible loss of the traditional Battle of the Bridge game that has taken place as the last regular season game since 1893.
"It's always the best game of the year facing your biggest rival no matter the outcome and possibly not having it next year is going to be very disappointing," Rhoy said.
Although traditions may be broken and it would be a large scale change for Biddeford football to move down to class B, it would make the game much fairer for the boys and coaches.
"I've always been a proponent to play where you fit," said Curit. "A lot of schools have backups and the problems that you encounter are going to be ones similar to schools of the same size."
The final decision should be made sometime in November of this year as to if football remains in class A or not.
"We've gotten to the point where we just need to do what's fair for our kids and our school," said Walton. "If this is where they are supposed to be playing with similar school sizes, than that's where we should be playing."