Taking a walk in their own shoes
An article where obsessions and minimalistic high schoolers express their views on the comfort and support a shoe can offer.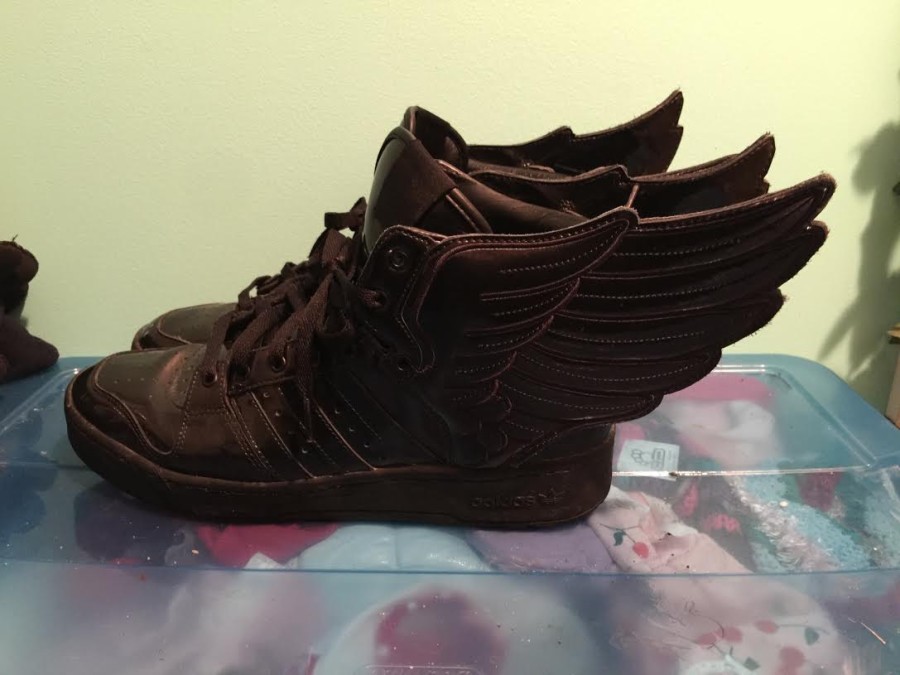 Shoes have walked almost as many miles as we have, and have always been there to support us. Most of us have many different types of shoes, whether it be for style, comfort or because it's the hottest new trend. To some people, shoes are just shoes. And for others, shoes are not only statement makers but memory holders. To really understand a sneakerhead and non-sneakerheads, you just have to take a walk in their shoes.
People obsessed with shoes are deemed sneakerheads. Although shoes can be bought anywhere, it still doesn't stop these sneakerheads from doing anything and everything to get their hands on the hottest deal on stylish sneakers.
Sneakerhead senior Mike Cohen goes to the extreme when it comes to purchasing the hottest and grandest new sneakers.
"You stay up until about three in the morning when they release them," said Cohen. "But I've learned; I've adapted. See, you go to bed early and set an alarm for two-fifty."
Owning over 40 pairs of shoes, Cohen still has his favorite shoe that sends a message to others.
"My favorite pair are my wing sneakers because I like to break people's necks–not literally–because they walk by, they see them, and they turn around," Cohen said. "What you aim to do when you're a sneakerhead is to not buy shoes because of the hype, but to buy them because you like them."
Having all these shoes sometimes comes at a steep cost, as Cohen spends thousands of dollars on shoes when they "drop" in stores.
"My Big Sean red Detroit Players were about $160 when I bought them, now they're worth about close to $300," said Cohen. "[The most I've ever paid] for a pair is about four to six hundred. I've paid a couple thousand for all my shoes."
Cohen also uses his multiple shoes as an advantage to keep his kicks in tip-top shape by switching them out often and frequent reparation.
"Everyone has 'beater shoes' that you wear in the mud, so if it's snowing I'll wear an average pair so I don't destroy my good pairs," said Cohen. "If the seams come undone or something, I'll go to my local tailor and they'll fix my shoes."
Sneakerheads not only use style and color to pick the perfect shoe, but also thinks about the memories that happened while wearing them. But even if you're not a sneakerhead, shoes can still be a necessity to keep your feet warm and cozy.
For not-so-sneakerhead senior Ashton Collins, shoes are more for versatile use.
"I spend about eighty dollars on shoes," said Collins. "I don't collect sneakers to look at, I just buy them to wear. I'm all for nice looking shoes but I also need them to last."
Collins, only owning about 4 pairs of shoes, categorizes his shoes for specific activities
"I just like shoes that are the most beneficial such as dress shoes for work [and] sneakers for running," said Collins. "I only buy new sneakers when I have no tread on my old ones."
Whether shoes be just shoes for some or a memory-filled sneaker with a hundred dollar price tag for others, shoes are necessities for people to get around without freezing their feet off or damaging them. For some, shoes may be more than the look, but for others, walking out in style is the best way to leave an impression.