Things that are a bigger deal than Zayn leaving One Direction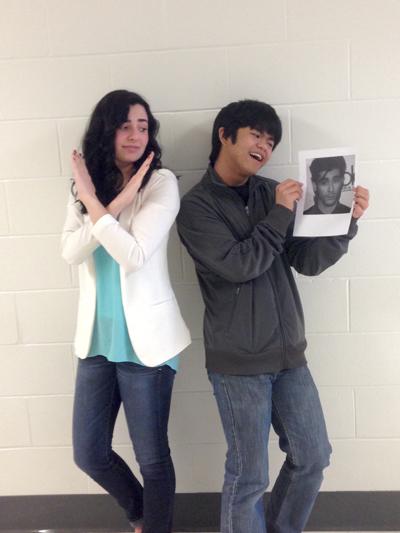 On March 25th, 2015, teen girls everywhere wept over Zayn Malik's anouncement to leave One Direction. For about a week this seemed to be all everyone was talking about; it was the crisis of a generation. Some people don't see what the big upset is. We're changing things up and this week we're here to tell you our opinion on things that are a bigger deal than the loss of Zayn Malik of One Direction.
Audrey's Opinion:
1. National Puppy Day: National Puppy Day was March 23rd, but I think we can all agree that this is still pretty relevant. I can't be the only one that was obsessing over all of the adorable furry creatures featured all over my Instagram. Who doesn't love puppies? They are soft and loveable unlike Zayn, who's chiseled jaw line could probably give somebody a papercut.
Ken's Response: PUPPIES!? You think a ball of fur amounts to the glory of Zayn Javadd Malik, aka Zayn from the almighty One Direction!? No amount of fur will ever match his fantastic scruff of a beard and his majestic man bun. It's not like dogs can serenade you to sleep, so beat that.
Audrey's Opinion:
2. Bikini Season: As everyone is aware summer is coming up and that alone has everyone stressing about how they can get a summer body in just about two months. The internet could just about crash with the amount of people searching "How to get the perfect summer body in 3 weeks." The gyms are packed all over America with people in a rush to squeeze into those tiny shorts from the previous summer. It's practically a nationwide crisis to get a bikini body in such short time.
Ken's Response: Do you know who also happens to be ripped? ZAYN. Therefore, this justifies the entire 1D fandom's reason to mourn. Also, if you really want to get ripped, each track of 1D's album 'Four' lists down ways to get the perfect beach body. So what are you waiting for? Buy their album now!
Audrey's Opinion:
3. Eyebrows: I think this one explains itself. While girls are crying about Zayn leaving 1D they should cry about their eyebrows instead. If you don't have good eyebrows you really should focus on how to fix that instead of the loss of a band member. Eyebrows are such an important feature in today's generation. Scrolling through twitter you'll see an occasional "eyebrows on fleek" picture. Some people overdraw their eyebrows, looking like dolls with their face painted on, and others are nearly shaving their entire eyebrows off. This really is a big issue, these people need help and it's America's job to save the poor helpless people in the world with eyebrow issues.
Ken's Response: To be honest with everyone who's reading this: it's futile to try and fix your eyebrows. If anyone here doesn't know, the fantastic Zayn's eyebrows are unmatched in their curves, appeal, and overall beauty. Truly, any more attempts at self-gratification are almost pointless when your competition is the blinding beauty of the almighty Malik. So basically, love yourself for who you are and don't try to make yourself appealing for anyone who casually scrolls through Twitter to see. This is one of the many lessons that One Direction has taught this generation.
Audrey's Opinion:
4. Going to bed before 12: Every night I see tweets about how teens across America can't fall asleep before 12 and I truly feel bad for them. Why is it that teens can't fall asleep before 12? Has anyone reached out to these kids? Not being able to fall asleep before twelve can cause serious issues in a person's life. The next day they will wear bags under their eyes as proof of their sleep troubles, they'll wake up late and not be on time to school, they'll be grumpy and irritable because of a lack of sleep. We need to start thinking of ideas on how to get to sleep faster instead of ideas on how to get Zayn to re-join One Direction.
Ken's Response: SLEEP!? YOU THINK SLEEP WILL MAKE THINGS OK AGAIN!? Nothing in our known universe has seen a disaster to this scale. To simply ignore the departure of Zayn is like ignoring world hunger. The only way to deal with this issue is to put every single ounce of strength that humanity has in order to bring back 1D back into its full, 5-piece glory.
Audrey's Opinion:
5. Girl Scout cookies: You're lying to yourself if you say you don't like girl scout cookies. Who in this world doesn't like girl scout cookies when there are numerous types to choose from? They've got a great price and you're helping the children, it's a win-win. In my opinion girl scout cookie day needs to be a national holiday. Furthermore, why can we only purchase girl scout cookies during a certain season? It is vital that we get the approval for girl scout cookies to be sold all year round. If girl scout cookies are always sold everyone will be so much happier all the time. Even those directioners that are distraught over the fact that Zayn has left the band can cry over a nice sleeve of thin mints and a cold glass of milk. There really is something for everybody.
Ken's Response: Hey you know who else is sweet? ZAYN. How could you think that a box full of diabetes is enough to make several millions of Directioners forget about Zayn's sweet smile, and his voice that can only be described through tears, and emotions flowing from the heart?
Audrey's Opinion:
6. Bieber Roast: The Bieber Roast aired on comedy central on March 30th and it was well worth the hype. As a belieber myself I still found the jabs from other stars such as Kevin Hart, Shaquille O'Neal, and even Martha Stewart quite comical. The night it aired all that appeared on my twitter feed were comments about the roast. Even though it was popular and enjoyed by a wide range of people, I would still say that the day Zayn announced his departure from 1D still tops the list of the most talked about things of 2015 so far.
Ken's Response: Unlike Bieber, the great Zayn Malik has no flaws, and is therefore impervious to petty roasts. There is no way to hurt a man of Zayn's caliber. Try as you may, it'd be as pointless as the new Transformers reboot. Is that Transformers joke still relevant? No, but Zayn is.
Thank you for reading this productive column! Next time, we will hover on to more relevant topics such as politics, diseases, and global economics. Just kidding! We'll probably cover topics such as why the left shark from Katy Perry's performance is still relevant. Tune in next time!