Army brings more than recruitment to BHS
Army recruiters bring interactive seminar with shooting practice, life-size jenga, and corn hole to interact with students on a more personal level.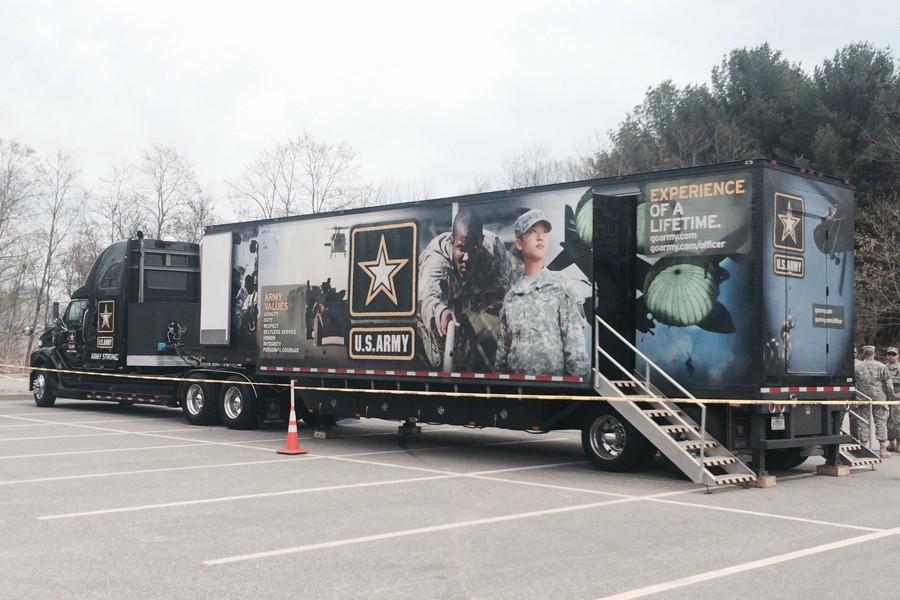 The United States Army came to Biddeford High to raise awareness to students about how soldiers are just normal people by bringing games and simulators to show that their visits aren't always about recruitment.
On Tuesday May 5th, the U.S. Army came to BHS for something more than just a normal recruiting visit. The soldiers brought a tractor-trailer truck that held a shooting simulator and games outside the truck such as life-size jenga, trivia, and corn hole.
Sergeant First Class Matthew Oliver is an exhibitor for the army, and it's his job to show the people the different sides of the army.
"This is one of the army's interactive seminars," said Oliver. "The school is letting us do the shooting simulator, but it can also be turned into a class room with presentation on the army or anti-bullying."
Sergeant Fredis Kindelan helped to keep students occupied by hosting a life-sized jenga game to show kids that success is found in teams.
"I like to incorporate teams into these games to build camaraderie and help everybody understand that it matters to be a member of a team," said Kindelan. "Each individual is a part of that team which makes everybody successful."
For sophomore Grace Gallant, playing games, like corn hole, with her friends and the soldiers at the seminar while winning prizes was a great time for her.
"I got to play that game with the sacks of rice that you throw into the wooden hole, that was fun," said Gallant.
Some students who attended the seminar, like junior Dillon Boutin, are considering joining the Army to better themselves and create better opportunities for their life in the future.
"I'm talking to my recruiter next week," said Boutin. "I think the seminar really gave me some better ideas of what the Army had to offer me in the future."
The Army is not a strict fighting force. There are many different options that students can choose from if they decide to enlist in the army.
"Some jobs [that are] out there people don't even realize you can get paid to do, and doing this [joining the Army] could open an eye to you [students] and think 'wow I didn't know people got paid to do stuff like throwing a hand grenade.'"
A common misconception that soldiers face is that just because they are a soldier and a part of the military that they have to be different and not 'normal.
"Just because you join the military doesn't mean you changed who you are," said Oliver. "The Army could ask you to be a drill sergeant for a few years, but you are still you."
While going into combat may not be the first option for some people, Sergeant Kindelan wants students to think about all of the possibilities and benefits that the Army can give to the students who decide to join.
"We have over 150 different professional jobs ranging from medical to administration to paralegals, so there is a whole lot of opportunities for students looking for a better future."
While joining the army is a thought for some students, having the soldiers come to BHS to get to know students on a more personal level, proving that they are normal people, the army aside.