Athlete of the Week – Grace Martin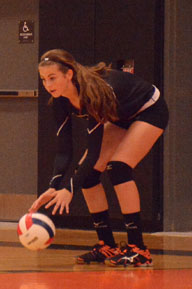 Why did you decide to start playing volleyball this year?
"I wasn't gonna play volleyball in the summer because I wanted to be prepared for basketball and fall ball.  My parents pushed me to play volleyball and I love it, it's really really fun. I'm glad I decided to play."
How much experience had you had under your belt before tryouts?
"I had about 5 days of practice before tryouts."
What kind of emotions were you feeling the first day at practice?
"I had just previously gone to the gold medal camp so I was a little prepared but I didn't really know what to expect and I was kinda nervous too."
How were you able to catch on so quickly?
"I had help from Jocelyn Moody, Faith Tourigny, and Kendra Cote, the three captains of the team, and at gold medal camp there were these two volleyball players who also helped me a lot. I just kept an open mindset and didn't get frustrated.
Are you going to continue playing or are you going to take up a different sport next fall?
"I will definitely continue playing [volleyball] because there's a lot of freshman in the program and we can only get stronger from this point on."
As a newbie, what are some specific that things you struggle with?
"Hitting definitely, it's just hard timing [when to hit] and stuff but I'll eventually get it."
What are some of your pregame rituals?
"I listen to a lot of remixes to pump me up and I usually eat food usually protein or something healthy."
What are some of  your strongest skills?
"My awareness,  reaction time,  serving, and knowing what the opponent is going to do next."
What are your goals as a player this season?
"To eventually play every position in a rotation,  improve on my hitting, be a good leader, and be a strong factor in play offs."
How do you see volleyball impacting your future in high school and/or college?
"I think it will impact impact my high school career because it's just enjoyable. I've never had or been to a game that wasn't hyped. You're just in the moment when you score a point and everyone cheers for you it's just really awesome. I'm not sure if I want to play in college I'm a basketball and softball player too so I don't really know but it's definitely one of my top two favorite sports that I enjoy playing."