Athlete of the Week- Riley Mcneil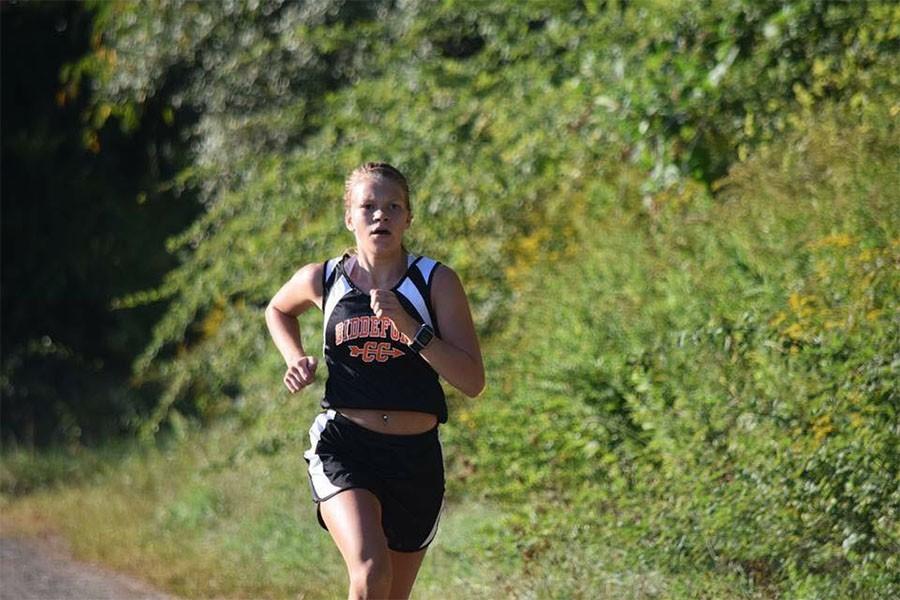 What made you switch from soccer to cross country?
"I switched from soccer to cross country because I wanted to get more experience with long distance running, and so I'll be in good shape for indoor track."
What experience do you having with cross country or running in general?
"I don't have much experience with cross country, but I do with running. I run both indoor and outdoor track."
What has made you so successful in cross country this season?
"I think what's made me successful so far this season is that I started training in the beginning of summer, and that I like to be competitive."
How has it felt to be doing cross country this season?
"It's been very fun so far and I love it! Its definitely different from soccer and track, but I am adjusting."
What do you have to say to the people who say that cross country isn't a sport?
"I'd have to say everyone is entitled to their own opinion, but I disagree. It takes a lot of effort and training, just like every other ' real sport '."
The girls team won its first meet in 15 years how does that make you feel?
"It's makes me very excited for our program and what the future has in store ! We work very hard six days a week and it's nice to see it pay off."
Do you believe that cross country is a growing sport in our school?
"I do believe it is a growing sport in our school because our team is very welcoming and the sport itself isn't intimidating. The atmosphere around meets and running is very encouraging and not as intense as other sports. I thinking running in general is becoming more popular."
Do you look up to any of the seniors on the cross country team?
"I look up to Jija Young because she is new to cross country as well. She had to make a tough decision between cross & soccer because it's her senior year. She just started long distance running and she's doing great, shout out to Jij!"
Being new to high school cross country have you faced any problems this season?
"As a newbie, I still have trouble with racing because every course is different , some are super hilly while some aren't. I find that I struggle with controlling my breathing and finishing a race strong."
Do you have any pregame rituals? If so what are they?
"We always have a team dinner before a meet. My own ritual is the night before a meet I envision myself racing, and think about my race plan."
What are your goals for the future in competing in this sport?
"My goals for this sport are to qualify for states with my whole team or individually! I'd also like to get my 5k time down into the 21's."
How has this sport impacted your junior year so far?
"It hasn't impacted it that much yet , other than making it interesting . There are a lot of funny personalities on the team, so it's made it enjoyable. I think it'll impact me the most when track season comes around and will help me out it the long run."
Who out of your fellow teammates do you look up to?
"One teammate I look up to is Jordan Cook. I look up to him because he works hard everyday in practice and gives his all in every race. He encourages and supports  everyone on the team as well."