Snapping attention with new filters
Students and staff at BHS use Snapchat filters for amusement.
Hang on for a minute...we're trying to find some more stories you might like.
Over the past few months, Biddeford High School students and staff find themselves using the new unique filters on the popular app called Snapchat.
The app allows you to take selfies and regular pictures and send them to others with the app. This past fall, the popularity of featured filters such as the dog and face swap continuously get attention from students. For sophomore Jordan Roberts, the filters bring more excitement and worth to the app.
"It's [the Snapchat filters]the only reason I have Snapchat right now," said Roberts. "I deleted the app two times prior to this because I thought it was stupid.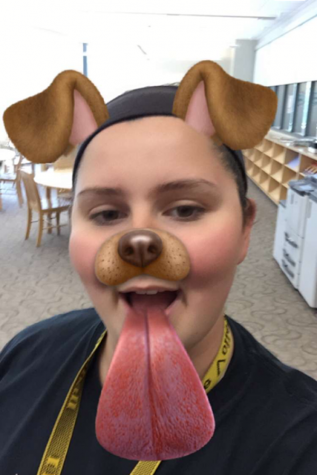 "
Junior Calea Roy admits to having favorites that she uses on a daily basis to send to her friends.
"It's a tie between the face swapping filter, the puppy filter, and the cat filter," said Roy. "Face swapping is fun because it can always go wrong, and honestly who wouldn't want their own face to get swapped with their own nose?"
The enjoyment that the filters bring to Roy makes her feel the need to use them even when it is unnecessary.
"I just enjoy doing it with my friends," said Roy. "I definitely use them [filters] too much."
The filters make selfies more interesting for Roy which is why she uses them a lot.
"I probably use them in every selfie I take," said Roy. "I don't selfie that often, maybe five or six times a day."
According to sophomore Cody Newton, the filters that make him feel cute are the ones that are his favorite.
"My favorite filter is that one where it gives you a flower crown because it makes me feel cute," Newton said.
Some filters, such as the bunny filter and the unicorn filter, change when Snapchat recognizes an open mouth, and for math teacher Michelle Dion-Bernier, it can be quite frightening.
"
I thought the little rabbit one [filter] was cute until this angry, atrocious thing popped up and scared the bejeezus out of me,"
— Michelle Dion-Bernier
Within the cute and sponsored filters, there are some filters that Newton can go without.
"I feel that the tribal filters are a little unnecessary," said Newton. "There are plenty of ways to be creative without running the risk of offending anybody."
The face swapping feature has been known for glitching out and causing dysfunctional images, but for Roy, it's an opportunity to laugh.
"One time, I tried face swapping with someone and it came out really wrong," said Roy. "The filter accidentally picked up the seat behind my friend, so my face was all grey, and my face was on the seat."
Unlike Roy, Newton tried to face swap with his uncooperative pet and ended up face swapping with an inanimate object instead.
"Once I was trying to face swap with my cat, but she wouldn't look, so I was following her around with the camera facing us, and eventually I just swapped with the clock on the wall," Newton said.
Occasionally Snapchat will allow sponsors to make up their own filters and add them to the mix of the others, and some students such as Roy find them to be annoying.
"Anything that's sponsored is just kind of boring," said Roy. "The other day they took out all of the normal filters and they were all sponsored with X-Men which made me so mad."
Unlike Roy, Dion-Bernier believes that the use of the sponsored filters bring more interest and hype to the upcoming film or promotion.
"I think they are nifty [the sponsored filters] and they [sponsored filters] get you excited for the movie," said Dion-Bernier. "I think that it's a neat way to get you more intrigued or involved with the movie."
Along with the sponsored filters, Snapchat introduced a Bob Marley filter that caused a ruckus amongst some.
"I personally wasn't offended, but I understand how it could offend people," said Newton. "If there's a large population of people who feel that way about something, I think it's best to just take it down and not argue with them."
For the most part, students are happy with the filters, but some like Roy find themselves coming up with even more creative ideas for new filters.
"I'd want to be a tree," said Roy. "I don't know, I just like the outdoors, and I want to become one with nature you know."
Newton finds that the filters that morph the faces in the selfies are hilarious and he would like to see more of them.
"I think a really good idea for a filter would be one that swaps your eyes with your mouth or maybe one that flips your face upside down but keeps your head right-side-up," Newton said.
Although the opinions of the filters are vast among students and staff, the rising popularity of the app has not stopped.