Addicted to Aromas
Many students of Biddeford High School find themselves making Aroma Joes a frequent stop throughout their day.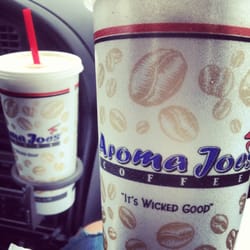 Hang on for a minute...we're trying to find some more stories you might like.
"Can I have a raspberry pomegranate rush, please?" asked a Biddeford High School junior Grace Bermeo as she reached in the Aroma Joe's window.  It was around eight in the morning when Grace picked up her first energy drink of the day.
For many high school students, picking up an Aroma's "Rush" drink is a mandatory stop before school. Students who tend to drink this sugary, and high in caffeine drink don't always consume a moderate amount.   
"I love Aromas," said Bermeo.  "I get at least one to two everyday. I honestly can't get enough of it."
Bermeo's sister, senior Gaby Bermeo, believes her sister has an unhealthy addiction to this energy drink.
"Grace is crazy," said Bermeo. "She drinks way too much of it that it is actually harmful to her health. It's so much sugar and caffeine."
An international research team, led by Dr. Fabian Sanchis-Gomar of Madrid, Spain, has concluded that energy drinks are the cause of many sudden cardiac deaths in young, healthy individuals. Bermeo knows her sister is at risk.
"When you consume an energy drink your heart usually spikes and works a little harder," said Bermeo.  "When you consume more than one energy drink in a certain amount of time it can cause your heart to overwork, and then you die. Grace is putting herself at risk."
Health reasons are not the only reason why junior Curtis Pettit believes the amount of sugar in Aromas Joe's rushes should lead consumers away from it.
"You know that gross feeling on your teeth after you take a sip?" asked Petit. "Well, that is actually all of that sugar.  If your teeth feel like that after a single sip, then it clearly has too much sugar in it."
Petit also believes the sugar is not the only bad thing in these Rush drinks. According to Energy Drink Lawsuits (https://www.energydrinkslawsuit.com/5-most-potentially-harmful-ingredients-energy-drinks/#), the makeup of these energy drinks are excessive amounts of B13, sugar replacements, taurine, ginseng, gingko biloba, and guarana. These chemicals are only okay when consumed in moderation.  If too much is consumed at once, then it can result in weight gain and heart risk.
"Inside of the drinks, there is syrup and an energy drink," said Petit. "An energy drink it pretty much all chemicals, so I am not sure why anyone would want to drink this.
Junior Chanelle Chretien, Petit's girlfriend, explains how her boyfriend does not encourage her drinking any Aroma's drink.
"If he comes to my house to pick me up and see's that I have an Aroma's cup in my hand, he will lock the car door," said Chretien. "He will actually make me walk."
Although she finds this a bit ridiculous, she does respect the fact that her boyfriend is just looking out for her.
"Curtis isn't like crazy or pushy," said Chretien. "I know that the drink is not good for me, and that he is just looking out for me.  I appreciate that."
Bermeo does understand the health risk, and plans to quit her addiction due to the high levels of chemicals in it.  Even though coffee is not the healthiest option, it is a better alternative to what she has been drinking.
"I know that there are healthier options like coffee or water," said Bermeo. "I really want to quit and I am going to, but it will have to gradual for it work.
Bermeo admits to trying to stop her addiction in the past, although the sugary caffeinated goodness leaves her feeling empty.
"
"This sounds crazy, but I have really gotten withdrawals," said Bermeo. "My mouth starts craving it, and it is all I can think about. I just need it so badly.""
— Grace Bermeo
Substitute teacher Mrs.Gates believes that many students may be spending too much on this energy drink.
"Every once in awhile, if someone complains about needing money for something, I will say 'And you spend how much on aroma joes?', said Gates. "Then they do some basic math in their heads and they stop complaining."
Students also find that the increase in cost of Aroma Joe's energy drink's to be getting ridiculous.  Senior Bailey Hefferan has found a way to save some money without missing out on the rush.
"I [have] saved around $200 dollars over the past two years by making my own," said Heffernan. "Aroma's [continues] to get more and more expensive."
Gates also believes that these drinks are one of the reasons why so many students show up late to school.
"I don't know if kids are late because of Aroma runs, but I see far too many kids come into school late with Aroma's energy drinks in their hands," said Gates.  
Whether it be price or unhealthiness, health teacher, Ms. Shang believes that everything is good in moderation.
"Overall you want to moderate the sugar intake you have, and also beware of the levels of caffeine.  In moderation every now and then is okay, but everyday is a little much."