Rolling into PJ day
Students were encouraged to roll out of bed and come to school on Wednesday.
Hang on for a minute...we're trying to find some more stories you might like.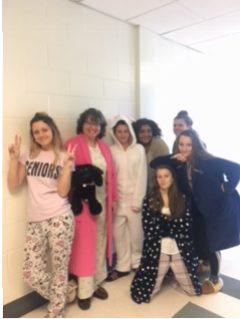 Walking into school in plaid PJ pants and fuzzy slippers, Biddeford High School students take advantage of a random PJ day.
Last Wednesday, kids were encouraged to come to school in their pajamas to make a more productive and achievable early release day.  The administration decided to plan an event, in hopes to help motivate students in coming to school.
Wearing snowflake PJ pants, fuzzy socks, slippers, and a reddish sweater, junior  Brooke Davis found this occasion to be very convenient.
"It was definitely talked about, and lots of people were excited about it," said Davis. "I feel like it made it easier because students did not have to necessarily look good. They could just throw some PJ's on and come to school."
Davis was not the only student who wore their pj's to school on Wednesday.  In fact, Principal Jeremie Sirois had his flannel pants on to.
"I have to admit, I saw a lot more kids wearing PJs then wearing regular clothes today," said Sirois."
However, Sirois did not just plan a random PJ day for nothing, there was meaning behind this. By planning an event on the annually monthly half day, he hoped to raise the attendance.
"I track the attendance every day, and I have noticed that our [school attendance] has not been great on early release days," said Sirois. "Early dismissals have brought our attendance down to about 75-90%. This is a lot lower than our daily average percent, which is in the mid 90's".
After realizing the dramatic attendance drop, Sirois knew he needed to find a new way to attract more kids to going to school on half days.
"At this point, I am doing whatever I can do get the attendance up," said Sirois. "Mr. Fletcher and I just talked about making next [early release day] a twin day, so that you at least have to have another person with you."
His plan worked after noticing that the latest early release day had a higher attendance percentage than the usual 80%.
"[The attendance was] 90.84%, [which] is a major improvement from last time," said Sirois.
Staff members were also encouraged to wear their PJs to school.  Math teacher, Mrs. Dineen, enjoyed wearing her purple plaid PJ pants to school.
"It seemed like everyone really enjoyed it," said Dineen. "It was not having to worry about what to wear. Plus I was very comfy."
Staff members and students alike enjoyed having a little change up.  Davis hopes to see more days like this in the future.
"I'd say I'm excited to see what's next for the half days," said Davis. "[I wonder] what we will be asked to wear or if we'd keep the PJ theme."
In the end, Sirois was happy with his creative idea.  He even believes that it brought the school together more.
"Our main goal is to increase the attendance in any way we can," said Sirois. "We [also] just tried to have a little fun with it.  In a backhanded way, it brought out some more school spirit. Kids really enjoyed it."