Skating into February
Taking on ice skating, Max attempts to teach me how to skate.
Although Max and I have been together for these past three winters, we have never gone ice skating, which I find really weird considering his family sets up an entire ice rink in their backyard. This rink is welcomed to all of their friends and families who make frequent visits. I can't even count how many times Max and I hung out in his living room watching movies and heard the sounds of footsteps from kids of all ages traveling through his garage to go out back to the ice rink.  Sometimes I would ask him who was there, and he would have no idea who those kids were. So I decided that Max and I would eventually have to go skating on this conveniently located rink together.
   However, I was not so excited about this idea at first, since I knew that going skating would not only show off my lack of balancing skills but also would involve Max showing off his first line varsity hockey skills. If you have read any of my columns in the past, you know that Max has a high tendency of doing this, and that I am always the one that looks dumb in the end. Although, over time I have learned how to live with Max "being the best" at thin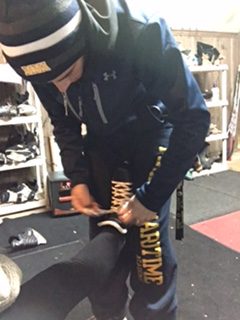 gs.  So with these two factors pushed aside, we decided that we would go skating one day after our practices.  
 I actually learned a lot from this little date, starting with the fact that tying hockey skates is much different than tying your everyday sneakers. There I was tying my own skates and getting ready for our little date when Max stopped me. My skates felt fine and I thought I did them right, but Max insisted on showing me how it is done. I guess the right way of tying hockey skates is pulling the laces so tight that you lose all circulation in your feet. In my opinion, they were too tight, but I didn't feel like arguing, so off we went with our hockey sticks in hand.
Balancing on the ice was a challenge in itself since I haven't skated at all in the past four years. I managed to take my first few glides gracefully — I mean I didn't look graceful, but at least I stayed on my feet.  These glides were interrupted when I skated upon a very small devot within the ice and fell forward. Luckily, my arms saved my fall, so the only thing that broke was Max's laughter off in the distance.  He skated to me and instead of helping me up, he took my puck away from me– not nice.
Max and I skated around for about 45 minutes.  Within this time, he taught me how to skate forward, hold a hockey stick, and even sc
ore a goal. Max will give himself full props for being a good teacher, but I was a pretty good learner as well. Overall, this part of our date was really nice since we had the whole rink to ourselves where we could just skate around and enjoy each other's company. This all ended abruptly however when Max asked me to put on the goalie pads.
Sadly, I  didn't know what I was getting myself into. As I sat in the goalie net, excited to block the pucks coming my way, I realized that it was not as easy as high school varsity players make it look.  For about three minutes, I let Max take successful shots on me as I was doing my best to dodge every puck flying my way. After some time, I decided that I was actually going to try to block a few shots. After a hard shot to my left leg, I called quits.  Even though it may seem that those hefty pads could protect you, you still feel the pain from slap shots.
However, I do have to admit something that not even Max's knows. I was exaggerating the pain– a lot.  I sat in the net complaining about my "agonizing pain", but really I could have gotten up and done it again.  I chose to make him slide me off the ice and baby me on the couch for the rest of the night because I am a little bit pathetic and wanted some attention.  This could be considered a typical Tiffany moment.  Although, Max was a good sport about it and made sure I was wrapped in my favorite blanket with my favorite show on, "House Hunters".
Overall this was a pretty good date that I recommend to a lot of couples.  Obviously, not everyone has their own ice rink, but there are places like Westbrook skating rink which would be a good alternative. My only big suggestion is to dress warmly because skating around under the stars is much more pleasant when you can feel your fingers!