The consuming cubes
BHS students turn to a new hobby this year, one that is quit the puzzle.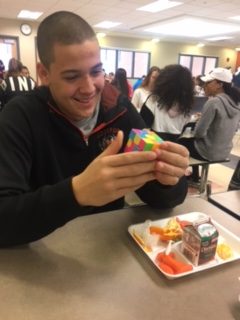 Hang on for a minute...we're trying to find some more stories you might like.
Swiftly moving their hands across their Rubik's Cube, students study new patterns and new challenges.  
For many students, this has become a huge hobby for them this school year. They try and solve the cubes between classes, during lunch, and whenever they have a free second. For senior Matt Brady, this has become his favorite way to pass time.
"I enjoy trying to figure out the algorithms and timing myself," said Brady. "I rather do it instead of being on my phone or playing video games."
With so much practice time, Brady has been able to hold a strong record time for all of his Rubik's Cubes.
"I can complete a 3×3 in about 27.5 seconds," said Brady. "And no, I didn't cheat.  I have people mix them up for me all the time.  That way I am actually doing them."
Although many students may argue that Brady started this trend, senior Jocelyn Martin claims to be the trendsetter. Her best time is three minutes for a 3×3, which she has been working on.
"I think I had a big influence on this trend," said Martin. "I started about two to three years ago, and I don't remember anyone playing with them back then."
Martin claims that she found this hobby while she was browsing videos online.
"One day, I was on Youtube and came across some professional Rubik's Cube masters," said Martin. "I couldn't get over [what I was watching].  I thought it was so cool, so I needed to get one."
Other players have also learned from watching youtube videos. Senior Eric St Amand holds a record of being able to complete a 3×3 Rubik's Cube in only 37 seconds. He finds that cube is more tedious than anything else.
"It isn't too challenging," said St Amand. "Although there are just so many algorithms to memorize."
However, the Rubik's Cube challenge doesn't just end at the 3×3 cube, there is also cubes like the 2×2, pyramids, megamix, skewed, 4×4, mirror cube, 5×5, and the 7×7.  All of these cubes have been solved by Brady.
"I have 22 Rubik's Cubes," said Brady. "That may seem a bit over the top, but most of them are all different with unique shapes or more rows.  So some are more challenging than the others."
These cubes may seem interesting to those who like to play with the Rubik's Cube, but for some students, it is a trend they would rather not take part in. For freshman Bailey Foley these cubes will never be found in her possession.
"I understand why people like these cubes, but I am not into it really," said Foley. "I feel like you need to be really patient in order to successfully learn how to do them."
Although she prefers not to spend her time playing around with Rubik's Cubes, she has tried a few times to complete them.
"I have tried in the past to complete one, but I couldn't do it," said Foley. "It got to a point where I just wanted to rip off all the stickers and put them where they belonged.  I didn't want to continue with it."
However, for those who do want to continue, they have a few buying options. Students tend to buy their cubes in stores and online, but some choose to buy theirs from down the school halls. Brady has found a way to help students buy cubes at a lower price.
"What I do is order them in bulk," said Brady. "That way it is less expensive, plus there is no tax.  Then I just sell them to whoever wants one.  I have sold about 20 or so."
Brady knows that he could be making a profit off these cubes since he gets them for a cheaper price, but chooses not to since this is all in fun.