Be there, Bradley
Perfect attendance is hard to come by, but this year's senior Bradley Laverriere took on the challenge.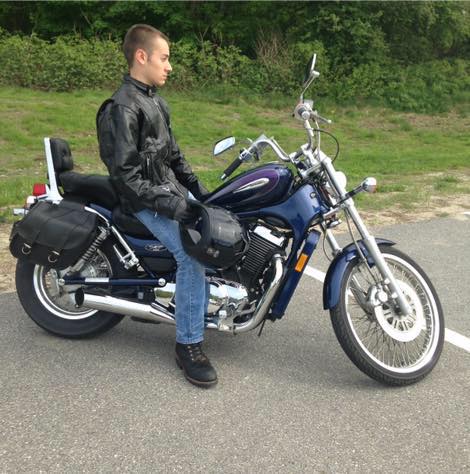 Hang on for a minute...we're trying to find some more stories you might like.
Perfect attendance is hard to come by, but this year's senior Bradley Laverriere took on the challenge.
Laverriere has yet to miss a single day of school in the past four years of high school. Every class, he shows up ready and focused for whatever projects and assignments are thrown at him. His awesome attendance mostly from the fear of makeup work.
   "For me, it is much easier to push through the day and come to school, rather than miss school and then make up double the work," said Laverriere. "So it's easier for me to just show up."
   Not only has Laverriere been present in every class, he has also always been on time, which he did not find difficult.
"I have never been tardy for school," said Laverriere. "I have not been dismissed either, so I am just always at school."
He was even at school on Biddeford's very own senior skip day. This is a day where all of the senior plan to miss a day of school and typically go to the beach together — not for Laverriere though.
"My physics teacher gave whoever showed up two free quiz grades, and I needed to help my robots partner in class since he's an underclassman and he knows I'm leaving Wednesday," said Laverriere. "Although I always show up to school, so why not then?"
His perfect attendance has not gone undetected though, Principle Sirios raises Laverriere for coming to school every day.
"It's rare to see a student go through their entire high school career with no absences," said Sirois,  "It's quite a feat.  Think about it – that's 700 school days.  It's really easy to take a day when you have a cold or not feeling up to it.  To persevere and come into school for 700 straight days is extraordinary and admirable."  
However, with the unsteady weather here in Maine, many students found themselves in bed fighting a cold rather than in the classroom. But not for Laverriere who believes he owes some gratitude to his immune system.
"I am one of those people who doesn't get sick often," said Laverriere. "There may have been a few days that I have felt [under the weather], but I still came to school."
Laverriere's parents were not the reason behind his lack of sick days, in fact, he made these decisions himself.
       "If my parents knew that I was sick they would probably be okay with me not coming to school," said Laverriere. "But they are proud that I don't skip or anything like that."
Even his friends are impressed with his attendance. Senior Jordan Cook envies his friends perfect attendance.
"I have a good attendance, but not like Bradley's," said Cook. "I won't be surprised if he gets an award for it or something– he deserves one."
   Going to school has become a major priority to Laverriere so he is sure to schedule everything around school, including yearly check-ups and other appointments.
"I always try to schedule my appointments outside of school," said Laverriere. "If it was scheduled during school, than I probably would reschedule it. Usually I will go before or after school."
Since most students here at BHS do not have a perfect attendance, Laverriere considers himself to be one of the lucky ones.
"I never had to worry about missing something important or funny," said Laverriere. "I never missed anything, which I think is pretty awesome."
Coming to school matters, and that is why Sirois also feels as though a good attendance is a good thing.
"As a school it's important that we make a great effort to show up every day and give our best effort," said Sirois. "I believe we are heading in the right direction, and I'm proud that Brad never missed a day."