What's Your Story: Matthew Lamoureux
A sophomore pursues his dream of playing college level soccer.
His cleats tear up the ground. Sweat drips down his neck. His hair is pushed back in the wind as he sprints towards the soccer ball. Bystanders call his name in support as he steals the ball from the feet of the opponent and kicks it upfield to a teammate near the sideline. Without care for whether or not his moments of glory are recognized, he returns to his position on the defensive line.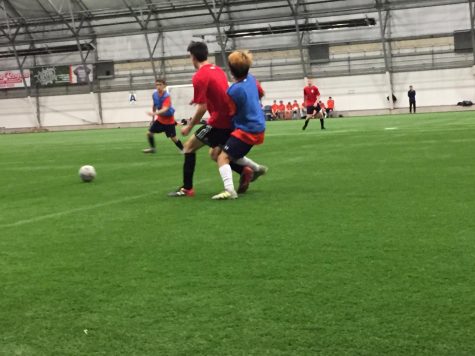 For sophomore Matthew Lamoureux, his love for soccer fuels a daily commitment. He attends school with a goal to maintain high grades. After that, he goes to the school gym to lift. After that, he goes home to practice foot-skills with a soccer ball, and finally, goes to practice with his club team.
"It's a really hard sport to master and I think that's one of the things that draws me towards it," said Lamoureux. "There are just so many things involved. That's why it's one of the things I love to do."
He began playing soccer in kindergarten, but because of his shyness, he quit the same year. Lamoureux's mother signed him up for football in the fourth grade, but he didn't like that either.
"She was like 'okay, I'm going to put you back into soccer,' so then I started playing some more and I did some off-season stuff in the winter," said Lamoureux. "Now I'm playing high school soccer and club soccer with my off-season team."
Between sports and academics, he said that he doesn't have much time for a job, but he plans on getting one; this–among other things–acts as his motivator for putting in all possible effort. Another motivator that Lamoureux keeps in mind is the fact that there are people who suffer from illnesses that prevent them from freely pursuing goals.
"I want to [play soccer] for them. My cousin was born with bladder exstrophy," said Lamoureux. "It's where you're born with your bladder outside of your body and it's pretty serious. Now he's able to do everything that I'm able to do. He's just a really strong person, it inspires me."
Lamoureux's main goal is to be able to play college soccer; he's considering going to Boston University due to their strong dentistry and athletic programs. As of now, dentistry is the career he is most interested in, and as for athletics, he recently entered a college showcase to assist him.
"It's where you go and play in front of a bunch of college coaches and they tell you what you should work on if you want to play college soccer. I've been training for it," Lamoureux said.
To achieve this goal, it requires a great deal of individual practice and guidance from coaches.
"Two of the coaches that have impacted me the most have probably been Larry Burningham–he's the head coach of Biddeford high school [boys] soccer–and Paul Illiano. He's also my coach for my club team," said Lamoureux. "They taught me a lot about things other than soccer too, like how you should be as a young man, how you should show pride for your team, and respect."
His coach, Paul Illiano, feels that Lamoureux's work ethic is second-to-none, which heightens the probability of him making it to the college level of soccer.
"Once he sets his mind on achieving something, he will not let anything stand in the way," said Illiano. "His ability to learn and adapt during trying times will lead him to whatever goals he has set for himself."
This tendency to learn and adapt has benefitted Lamoureux in more ways than one. He explained that his shyness used to be one of his biggest setbacks, until he took the advice of one of his best friends: his sister.
"I told him to be himself," said his sister Suzette Lamoureux. "I'm a big on telling when someone is 'fake,' so I tell him to be real all the time. If people want to be his friend because of that then so be it, but if not, then their loss. There's no need to be shy."
As a player, he has a constant desire to better himself. Teammates, coaches and family take notice of this after his games.
"He'll pretty much make himself feel bad if he did one play wrong," said Lamoureux's sister. "If he looks back on it, he'll feel like the whole game was bad because of it, but he doesn't look at the whole picture because he's so caught up on one little mistake."
She further explained that he goes home to figure out what to do differently for the next time. One of his teammates, Matthew Tardif, said that such a characteristic in Lamoureux proves his passion for the sport.
"Even if he knows he does good, he goes to coach and asks him what he can do to improve. You can tell he wants to make sure that he's doing everything right." said Tardif. "He's not originally a defender, he always played mid, but coach [Burningham] moved him to defense."
Burningham explained that the change in positioning revealed Lamoureux's formidability as a player.
"At first, Matt worked hard by running non-stop on the field. Then one day I asked him to play a new position, right back," said Burningham. "During the game, I coached him on the particular tactics of that position. Over [the period of] twenty minutes, he changed as a player before our eyes."
Regardless of the immediate changes in his usual positioning and, on top of it all, his tough self-assessments, Lamoureux said there weren't instances in which he is or was discouraged enough to quit soccer. In fact, his work-hard attitude almost forbids it.
"At one point in sixth grade, I didn't like how I was playing, so I thought that I should do something to turn it around, so, I started playing extra on the weekends and whenever I had free time," Lamoureux said.
His biggest supporters are his parents, and along with their understanding for Lamoureux's dedication to soccer, they make sure that he gets every opportunity to achieve his goals.
"The money part–they don't really like that much," said Lamoureux. "They don't get paid a lot, but they still make things happen for me. They make sure I play soccer, they make sure I get to do the things that I want to do, they make sacrifices for me, so I'm thankful."
Because of his dedication, Lamoureux opens up opportunities for himself. For example, he practices foot-skills for hours in his basement when the weather is harsh and in his backyard when it's nicer.
"I don't really get to use a lot of my foot-skills because I'm a defender," said Lamoureux. "But I'd say that my favorite foot-skills are the 'Maradona' and the 'Ronaldo chop."
The Maradona, a move created by the Argentine soccer player Diego Maradona, is accomplished when a player runs, plants a foot on the ball–almost stopping it–spins around the ball, and drags it with the other foot. Lamoureux explained that a player will float in the air at one point before touching back down.
"And the Ronaldo chop, you pretty much run up, stick whichever foot you're less dominant with in front–further from the ball–and then you cut it back behind your non-dominant leg with your dominant foot," Lamoureux said.
Even without the use of those skills, he protects the goal to the extent of his capabilities.
"He improved his ability to recognize situations on the field," said Illiano. "Matt does a tremendous job [of] stopping the other teams attacking players [and] controlling the ball, [being] a focal point to starting our offense from the defensive side of the ball."
The ball is kicked out of the sidelines. Lamoureux sprints towards it, picks up the ball, plants a foot in front of him, and with full-force, throws it to a striker. His teammate receives the pass, and after a few dribbles, he makes a goal. However, Lamoureux doesn't care for recognition of the assist. He loves the adrenaline of playing with his team. He loves the feeling of the grass beneath his cleats.