Tis the season for ornament making
A senior is using a unique way to create some holiday cheer.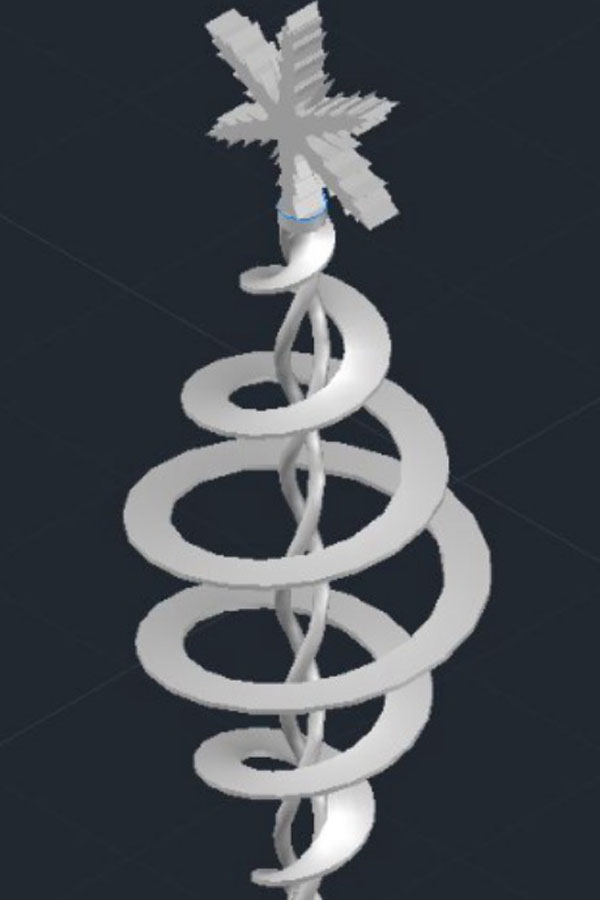 For the first time, students and Do-It-Yourself-ers can create glitzy ornaments and submit them in a contest to have them hung in the Smithsonian, or even the White House. Yet this is no regular contest, as the ornaments must be intricately made and mapped out with a 3D printer.
The theme of this first-ever contest is the overall idea of the magic and wonder of the holidays and the winter season, and one student at BHS is creating an ornament to exemplify just that, with the hopes of getting an ornament placed in the same house as the President of the United States.
Senior Jordan Stickles uses his creativity and his determination to create a unique project.
"[I decided to enter the competition because] Tammy Ackerman from Engine showed me the competition and said, 'I think you should try it out,'" said Stickles. "I thought about it and did some sketches on paper about what it could look like, and then used Autocraft to create it…I'm excited about the turnout of it."
Stickles had no guidance or fellow peers to knack ideas with, which contributes to not only his dependence, but preparation for the future. There's also an underlying reasoning behind why Stickles' decided to join the competition. Not only is a unique competition to even compete in, it has to do with his future as well.
"Architecture has to do with designing objects and buildings, and I've always liked sketching and doing different things," Stickles said.
Yet Stickles' future is another year away, it keeps his spark for his career still alit. While the excitement continues to reign as the completion of the ornament is ongoing, the design was one of the most difficult parts. Not only does it have to be unique, but also intricately done to reflect your own personal style.
"Well, it [my ornament] has a snowflake on the top, it goes into a spiral after at the bottom, and then there's a spiral inside it," said Stickles. "It's kinda complicated but it looks Christmas-y."
A Christmas ornament is the name of the game in this competition. Stickles had his reason why he decided such a difficult ornament to make with the 3D printer.
"I like the more modern design anyway," said Stickles. "So spirals and curves…I just like the look of them."
Once the design was set, it took every ounce of effort and racking of Stickles' mind that came in handy to create a masterpiece ornament.
"There's twenty winners and about half will be able to be hung [in the White House]," said Stickles. "And then some of them get to be hung in the Smithsonian museum."
The ornaments themselves are judged on "creativity, uniqueness and effort put into designing it," which are three key components in making the most-Christmas spirited ornament. Along with the pride associated with placing, Stickles also looks forward to the tangible prizes as well.
"You get a T-shirt, a certificate, some stickers and stuff like that," Stickles said.
In order to even become hopeful for winning the competition, Stickles first had to tackle the 3D Printer and understand how it works.
"Most people refer to the 3D printer as 'The Big Hot Glue Gun,'" said Stickles. "It pretty much heats up its generator by a computer and it heats up a spool of plastic. The plastic is then distributed around where the object is being made…plastic dries really fast so it just builds up [from there], layer after layer."
Going through with all of the programming in the 3D printer may seem like a difficult task, but what's even worse is the wait in his COT Drafting and Architecture class.
"My print took three hours to make, and that was only inches," said Stickles. "Some prints can take up to twenty four hours to make."
Whether it may take hours to make and days to create the thought of manufacturing an ornament, it's the outcome of it all that Stickles' is most proud of.
"I didn't make it into the finalists for the competition," said Stickles. "I don't care that I lost, I'm happy that I tried and participated in the competition; [it] never hurts to try."
And there's nothing better than being proud, especially in the holiday season and spirit.