Working hard or hardly working on school snow days?
Biddeford High School students and staff use snow days to study, sleep, and jump off roofs.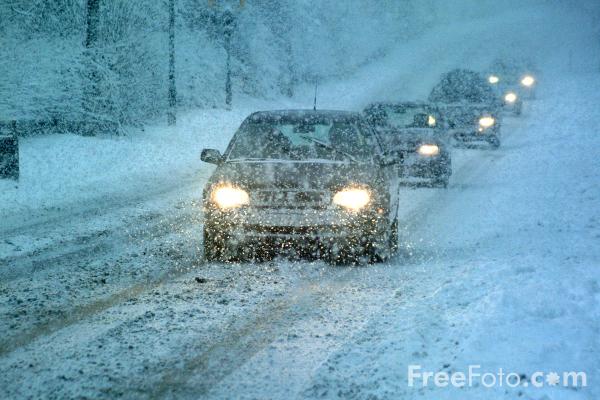 With each passing day comes a new fear of the thing New Englanders dread most: snow. White fluffy snowflakes can only mean two things; shoveling and snow days. Mother Nature seems to have it out for New England residents this winter after dumping almost 73.3 inches of snow in Maine. While some people may view snow days as beneficial for students to catch up on their piles and piles of homework, it can also cut down time before the last day of school ends and summer begins.
Both students and teachers have their own views on snow days, whether it be a positive outlook of watching Netflix, or crunching in time for classes to be completed.
Sophomore Alex Chase is one of the students that thinks snow days have both their pros and cons.
"The pros are being able to keep staff and students off the roads and to keep them safe," said Chase. "The cons though are that we miss out on crucial class time…which also impacts athletics and after school activities."
While being safe on the road can be beneficial to most students and staff, junior Lucas Rhoy also enjoys the other aspects of snow days.
"Snow days are beneficial for me because it helps me get ahead of my school work," said Rhoy. "Working at your own leisurely pace is nice too, along with sleeping in and staying comfortable for the rest of the day."
Kids are starting to embrace these snow days with fun activities, such as freshman Desean Cromwell.
"Because of where we live, the plow pushes the snow up to our first floor, my nephews and I jump off our second floor and into the snow," Cromwell said.
Although sleeping in may be some students favorite pastime such as Rhoy's , homework and other activities take up most students' snow days to keep them busy. Chase uses her Netflix addiction and the ever-falling snow to be productive.
"On my typical snow day, I wake up at 11 and basically stay in bed all day watching Netflix," said Chase.
Rhoy, on the other hand, prioritizes his schoolwork before relaxing for the rest of the day.
"I often spend my snow days finishing up my schoolwork first and then trying to get ahead in all of my classes," said Rhoy. "Then I just sit down and relax for the rest of the day."
Contrary to both Rhoy and Chase's ideas on snow days, senior Chris Charest believes that they have more negative effects when caught up on school work.
"Snow days are a waste of time for me because I have nothing planned for the day," said Charest. "I already have my homework done so I can't even do that!"
While sitting down on a comfy couch as a blizzard swarms around your house might seem like a fun idea, the excessive snow days are beginning to have a toll on students.
"By having all these snow days, it cuts out of crucial class time and hanging out with your friends," said Rhoy. "If we have more, we could stay back in June too, which isn't something I want to do when it's hot and sweaty in the school building."
Snow days even affect the seniors after a while, even though students like Charest won't have to make up the class time in June. As a senior, the snow days do not affect when graduation is set, so even though the class days may be cut short, staying later in June to make up the snow days do not apply to seniors. However, it still makes class time difficult.
"We miss school because of the snow," said Charest. "So it puts classes all a day behind."
Although there are both pros and cons of having snow days for students, for administration such as Principal Jeremie Sirois it could still be a typical work day.
"I still have to work but when we had the 'big blizzard' (January 26th, recording at an amount of 19 inches that day) I didn't come in," said Principal Jeremie Sirois. "So it really depends on the amount of snow."
Sirois isn't the only one that has to work on snow days. Superintendent Jeremy Ray get an early wake up call on these special mornings.
"Superintendent Ray makes the decisions on snow days," said Sirois. "His day typically starts at 4am."
Normally Biddeford, Saco, Old Orchard Beach, and Kennebunk make the decision together.
"He [Superintendent Ray] talks with the transportation director, public works department, and also area superintendents to make the decision," Sirois said.
In spite of the mixed feelings with snow days, history teacher Mr. Minzy thinks snow days are more of a waste than for kids' safety.
"I think that we shouldn't have snow days at all," said Minzy. "Part of the problem is we have this intellectual concept of the snow day. It's like all of a sudden we have an inch of snow out there and we have students demanding that some sort of crime has been committed against them because they have to be in school."
Even though the concept of the snow day is hard to comprehend and predict, it also hurts the teachers and how they plan out their lessons.
"I want to get into a flow… I want to move through each topic," said Minzy. "Snow days have two problems: one, if you have a snow day it messes everything up, and two, if there's already snow on the ground it gets students messed up."
Although some people are afraid of the snow for safety reasons, Minzy believes that snow days should be deemed upon a "best judgement" mindset in order to keep the classroom learning activity at its peak. Along with that, his responsibilities change for the snow day as well.
"I have to entertain a six year old [on snow days]," said Minzy. "It's just more exhausting for me to stay home…we're all stuck and inside and she's like 'Daddy this' 'Daddy that' and I'm here like 'I need thirty minutes so I can get some work done'…and she'll be like okay okay…But she'll be back after thirty to forty-five seconds later, so it's a complete waste of a day for me."
While snow days may be fun for some, it can cut back time in the classroom for a later date. Spending snow days procrastinating or watching Netflix is what some prefer, but sometimes winter takes over and you just have to let it snow.