BHS ink
Students and teachers express their ambitions, memories and passions through tattoos.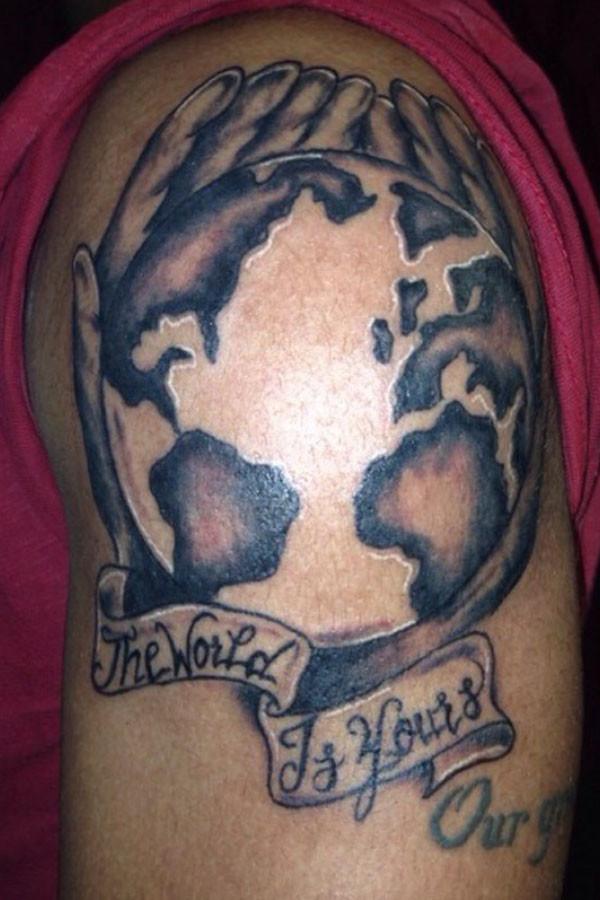 Everyone has something that they treasure, whether it be a loved one or a special talent of theirs. Some people use memory boxes, but some students and teachers are taking it to the next level by inking up.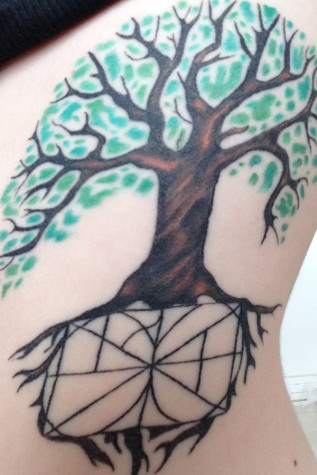 Once students have reached what is the legal age of eighteen, known as the first few steps into adulthood, is where they can finally express themselves as full fledged members of society–from being able to vote or even getting tattoos.
Tattoos are meant for many reasons, some can be just a way to stay positive or to commemorate a memory or lost loved one. Others just may be the heat of the moment or just for fun. Either way, significance behind each tattoo is what makes inking up more than just what was once called a "rebellious" act.
Having 12 tattoos overall, Senior Devin McDaniel is no rookie.
"I was sixteen when I got my first tattoo," said McDaniel. "It said 'Ambition' on the side of my neck."
McDaniel may be a veteran when it comes to tattoos, but that doesn't mean there aren't any new students starting to transform their skin into images and quotes.
Senior Marissa Heffernan recently inked her skin for the first time– getting a tattoo that intertwines two passions of hers.
"I got a tree with an anagram in the roots in which you can find all 26 letters of the alphabet," said Heffernan. "It's just a representation of two things I love: nature and writing."
McDaniel's meanings behind his tattoos come from all different points in his life, whether to be an inspiration or positive motivation.
"My tattoos are all meaningful to me in their own ways," said McDaniel. "I have some tattoos to remind me to stay positive when times are rough; like the quote I have on my arm, 'It is not in never falling but in rising everytime we fall.' I have some inspiring ones that remind me to strive in life; such as the one on my shoulder which is a picture of a pair of hands holding the world, and underneath it says in a banner 'The World Is Yours.'"
Even though McDaniel's first tattoos may have started in his teenage years, Heffernan's overall fascination with tattoos started at a younger age too.
"When I was little, I was fascinated with my dad's tattoos, but I didn't decide I wanted some of my own until I was like 15 or 16," Heffernan said.
It was on February 28th when Heffernan finally got her tattoo at Shawn Horton's Tattoos in Grey. Costing nearly $500 with a discount, Heffernan has no regrets about it even though it took five hours to ink on her ribs, which she says are "really sensitive."
McDaniel's love for tattoos has led to him having no regrets on the tattoos, but more so the artist.
"I know every time the needle touches my skin, it's there for life," said McDaniel. "I do have a tattoo that didn't come out the way I thought it would. I don't regret it though because it still holds meaning and it was an easy touch-up."
Although pain is a given when getting an image or quote engraved into the skin, the beauty of a tattoo is what really drove Heffernan to get a tattoo once she turned eighteen.
"I decided I wanted a tattoo because they're beautiful, and especially when I was younger I had trouble with self-image," said Heffernan. "I figured that if I got something beautiful inked into my skin, then no matter how I felt about my body, I would always have at least a little beauty. Now I'm much better with how I see myself, but I still love tattoos and want to add some beautiful images to my body."
Heffernan and McDaniel aren't the only ones with ink on their body in the school.
Health teacher Terri Schang has had a tattoo that may seem a little out of the ordinary.
"[My tattoo] is a sunset martini, and I grew up, like most people know, in Miami, Florida," said Schang. "I spent a lot of time down in the Keys because my grandparents have a house down there so we spent a lot of time out on the boat all day as a child. We'd come back and I'd go swimming in the canal with my brother and my parents would be up there on the deck just sipping martinis."
Although the tattoo may seem a little out of place, the meaning behind it is what made inking up so worth it for Schang.
"That was just a really good memory of family time," said Schang. "After my dad died, I wanted something that wasn't so apparent, so only people that knew me would know why it was on my ankle…it really symbolizes my family and how I grew up."
Tattoos can represent nothing or could mean the world to people, it just depends on the inkee's personal thoughts about it. Heffernan says it depends on personal preference.
"I think people get tattoos for the aesthetic or for representation of something important to them," said Heffernan. "This first tattoo I have means something to me, but some of the other ones I want don't mean anything at all; I just like the images."
Schang believes in more of a thought-out way to send tributes to passions and people they love.
"Most of the time [people get tattoos] because there's a meaning behind it," said Schang. "A lot of tattoos signify an event like a lost loved one, whether it was a really troubling and difficult time and that's how they cope with it, by symbolizing it for themselves."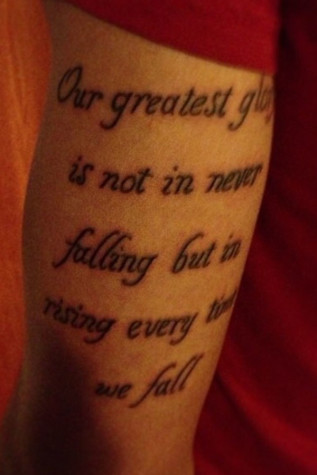 McDaniel also attributes tattoos in a similar way, as well as an expression of one's views.
"People get tattoos to express themselves in their own way," said McDaniel. "I consider tattoos artwork, and everybody's artwork on their own body tells a little bit about that person, piece by piece…and how that individual wants to be identified by."
While some may fall in love with first ink, others are not so lucky and may regret. History teacher Ryan Minzy may not have a tattoo, but that has come from firsthand experience from his father.
"Growing up, my father had a tattoo that he regretted from his days in the Navy," said Minzy. "It was a pretty big tattoo on his arm, and later in life he decided it was a little silly. So he always told us 'Don't ever get a tattoo'…both of my sisters ignored him, but my brother and I didn't. It was because of that I didn't get a tattoo."
It seems that age also plays a factor into tattoo getting as well, as Minzy's father was a late teen when he first got it.
"He's not [completely] embarrassed, but he would rather not have his tattoo on," said Minzy. "I think that who he is…at seventy-something is not who he was at nineteen, and that tattoo is all about the nineteen-year-old version of himself is not the same as his seventy-year-old version of himself."
Tattoos are a decision for some students and teachers that are easier to digest than others, such as voting or buying a car. It's a decision that can graph beautiful images into your skin forever. Whether tattoos are right up your alley or not your forte, they are sure to make a lasting impression.