Moody wins Gatorade player of the year award
After getting nominated as a junior and not winning, Jocelyn Moody comes back her senior year, to win the award she always hoped for.
Hang on for a minute...we're trying to find some more stories you might like.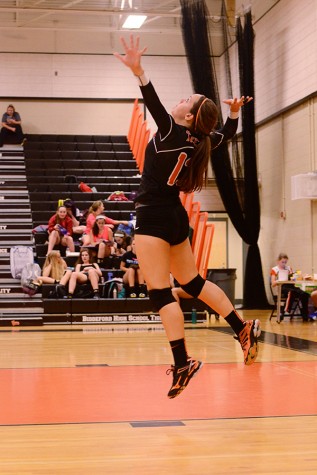 Established in 1985, the Gatorade Player of the Year award focuses on high school athletes' academic and athletic performances, as well as their honorable characters.
Senior Jocelyn Moody won the Gatorade Player of the year after being nominated two years in a row. For Moody, she has wanted and looked forward to getting nominated and receiving this award since her freshman year, when a senior on her team received the award.
"I found out at about 10:30 on a Monday night," said Moody. "My coach got an email, then she called me, and we were freaking out. She's actually my neighbor, so she came over, and we were all celebrating on a Monday night until like 12 a.m. It was amazing."
Coach Chantel Tourigny started out as the assistant coach for Jocelyn her freshman year, and became head coach her senior year.
"My excitement level was a bit overwhelming," said Tourigny. "Coaching is somewhat of an emotional roller coaster. I was proud and relieved that she got the recognition she deserves and has worked so hard for."
According to Moody, accepting the challenge of competing to win a large award like Gatorade player of the year, is just as important as physically preparing to for success.
"I guess I kind of had to [believe that she could win] just so that it would push me to work hard and stay on task,"  Moody said.
Jocelyn's mother Karen and father Norm Moody both support her in everything she is involved in, no matter how far away a tournament may be.
"We love to watch her play, she loves the game, and it's evident when she does play," said her mother.  "She's done travel volleyball for six or seven years now, and we've driven her to the practices, the games, and we've spent a lot of weekends away, so that she could play."
Junior Kendra Cote has played with Moody since she first started playing three years ago, and Moody not only works to help the team with her actions on the court, but also gives advice on how to make every player better by either teaching different techniques, or .
"Joce [Jocelyn] has impacted me a lot in volleyball," said Cote. "She has taught me so many things to the game like techniques and overall skills."
The bleachers during volleyball games are full of anxious fans, like Moody's mom, who puts herself into Jocelyn's shoes while she watches her daughter play.
"It's nerve racking watching her play, I can feel and see her passion," said her mother.  "Sometimes you wouldn't actually know how much fun she's actually having because she's so competitive. Sometimes I feel like I'm working just as hard watching her play as she is playing."
It was proven this past season how much the BHS volleyball team truly needs Moody, after a shoulder injury that took her out of some games.
"I don't think it can be measured in words [how much the team depends on Jocelyn]," said Tourigny. "Due to injury, we were forced to play without her. It is in watching those games that you can see how much Joce meant to this team."
Moody is a role model according to Cote, who took Moody's advice and expanded her career in volleyball.
"I definitely look up to Joce, she's an all around good leader, and she's the one who got me playing club volleyball," said Cote. "It's honestly the best decision of my life to play club."
During the fall of 2015, Moody expressed great effort and brought along enthusiastic energy to the team according to Cote.
"Joce brings a lot of good values to the team," said Cote. "She's a great leader, hard worker, goes after every ball, and she definitely makes a team stronger with those values."
A close team, like the BHS volleyball team, has a player full of encouragement, and that player this past season was Jocelyn, according to Tourigny.
"Jocelyn has the unique ability to raise the confidence level of the players around her," said Tourigny. "I think as a teammate she is both an offensive weapon, and a defensive security blanket."
According to her mom, Jocelyn has grown as a player and turned into a strong team leader who keeps everyone in a positive mindset during the toughest game situations.
"She's gone through all the stages of the frustrations of the game, and became a  support system " said her mother. " It was a challenging season, a challenging year, but I just love to see her smile when she's on the court."
Since Moody is a senior, the team will need to rely on someone else to pull the team though the season and bring them all the way to the state game.
"We tend to rely on her for getting those balls we think we can't get," said Cote. "She's a very good volleyball player and it'll be interesting to see how the team does without her next year."
In any sport, it may be difficult to deal with a loss of an error that caused the team to lose the game, but for Moody it's all about making the next rotation better.
"
If we're down, she's always right there to say that everything will be fine and picks us right up again,"
— Kendra Cote
"If we're down, she's always right there to say that everything will be fine and picks us right up again," Cote said.
Playing a sport at the level that Jocelyn plays at makes her school and social schedule difficult to do things such as work according to Moody's mom.
"Sacrifices would be the time she has spent in practices for the school team or her travel team, the work outs that she's included on her off-days, the travel time for all of us. The tournaments that we've gone through," said K. Moody. "I don't know if she would see it as a sacrifice because she just loves it so much, but the one thing that she couldn't do throughout her high school career, which I'm sure she didn't mind, was work because her schedule was so irregular."
According to Cote, the team will miss Moody's determination and energy next year after she graduates.
"Joce brings a very positive energy to the court," said Cote. "She always finds a way to look at the best in things."