AP vs Dual Enrollment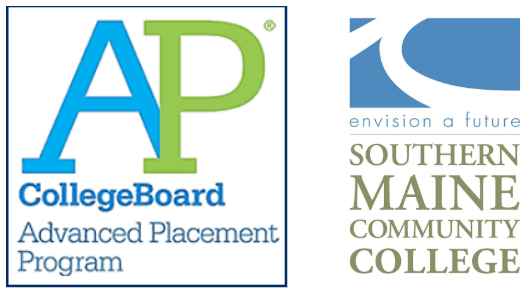 "Advanced Placement Courses versus Dual Enrollment. Which class should I take?" I know I had that same thought my sophomore year as I was looking through courses. What does dual enrollment even mean? What's the difference between it and advanced placement? All of these questions are what we hope to answer by comparing and contrasting the College Board Advanced Placement vs. College Dual Enrollment.
To begin, What is dual enrollment? In Dual Enrollment, You as the student are a member of a college class while also attending your high school. Your professor at the college will be in contact with your class teacher and together they will develop the curriculum. For Example, Ryan Minzy teaches SMCC U.S History, but the actual professor is Dr. Eben Miller of Southern Maine Community College. There is a general PSAT requirement for the classes in reading or math of above 480, however it was optional this year for certain classes. Dual enrollment classes are considered an advantage in terms of Grade Point Average (GPA). Meaning that if you meet the passing grade, your overall GPA will increase because the classes are weighed as a high school honors class (Level 3 on the Biddeford Rigor Scale). If you receive higher than a C- grade during the course you will also receive college credit for the course. "SMCC considers successful completion of a course to be achievement of a grade of C- or higher." (SMCC Dual Enrollment Contract) Dual Enrollment courses differ from a college preparation level course by being based on the difficulty level of an actual college course. "[Ms. Sheltra and I] did look at what other professors are doing with their curriculum … [so we] could give our students a similar experience, especially in regards to rigor." said Mr. Brasier, who teaches SMCC English 100 at Biddeford High School. Some challenges in Dual Enrollment he notes are "time management and the fact that there are no retakes for summatives." Another drawback of Dual Enrollment is that the credit is only guaranteed to apply to "[the] UMaine system in addition to the community college system" according to Brasier. It may, but it does vary on a college by college basis. The UMaine System is the state's largest educational enterprise with University of Maine, University of Maine at Augusta, University of Maine at Farmington, University of Maine at Fort Kent, University of Maine at Machias, University of Maine at Presque Isle and the University of Southern Maine all under its belt. He recommends that students who are looking to enter an SMCC Dual Enrollment class should be within "B- or better at the CP level" The classes offered at Biddeford High School through SMCC's On Course for College Dual Enrollment program are Psychology, U.S. History, Algebra, and English for qualifying grade levels. There are also Dual Enrollment Studies for vocationals offered at the Biddeford-Rotary Center Of Technology labeled as honors classes through both SMCC's CTE Concurrent Enrollment program and York County Community College (YCCC).
Next, let's talk about Advanced Placement. Advanced Placement is a program created by the College Board. College Board is a "mission-driven not-for-profit organization that connects students to college success." (College Board About Page) It is a national provider of the SAT and PSAT for students in the United States. While the College Board is not a part of or an association of any colleges, it runs a membership of institutions, including over 6,000 schools, colleges, universities, and other educational organizations with one recent example being the University of New England joining in 2016 due to a signed agreement between Biddeford High School and UNE. The Roar's own Megan Friel even wrote about it at the time in her article "UNE press conference brings changes to Biddeford AP students". This, in simple terms, means that the College Board AP exams are accepted by colleges all over the United States and may allow you to skip certain preliminary classes in almost any college, saving money and time. Most colleges require a 3 out of 5 as the lowest score possible to receive college credit for the test. Advanced Placement classes are also considered an advantage in terms of Grade Point Average and are considered to be in the same grading class as Dual Enrollment and Honors level classes (Level 3). AP Level work is considered to be far harder than College Preparation work, according to the 2020-21 Program of Studies "These courses are highly challenging and are taught at a fast pace for students who are performing above grade level expectations in the subject area". According to Mrs. Tremblay, who teaches AP Language and Communication, "AP courses must follow strict guidelines from the College Board to ensure college-level material and rigor … along with an increased pace. There are nationally-reviewed curriculum expectations, including rubrics and shared materials." According to her students who are looking to enter an AP class should expect "a much faster pace along with more complex material and skills." Tremblay recommends that "Any student looking to take an AP class should have a natural interest and strength in the subject. Taking an AP class simply because it 'looks good' is not the right motivation." Your grade does not count for these exams or college credit from the course. The only factor in the determination of your college credit through these classes is your test scores. Biddeford High School currently offers AP Language and Communication, AP Literature and Communication, AP Biology, AP Calculus, AP Physics, AP Psychology, AP Statistics, AP U.S History and AP World History. That is a lot of choice and variety in terms of offered classes.
Back to the main point, what class should you take? Well, it all depends on what you are looking for. Are you looking for an extra challenging class where technically speaking your grade doesn't matter and college credit can be applied almost everywhere, but is based on a one time 1-5 test score at the end of the course? Then I would recommend Advanced Placement. Are you looking for a challenging class that is actually based on the grade you earned in the class, but college credit that only is guaranteed to apply in the UMaine system and the community college system? I would recommend Dual Enrollment in this scenario. Regardless, I am not a counselor. If you would like to discuss this even further in-depth with them, please contact them at the Student Services page! I am sure they would love to hear from you! Hope this helped you in your future higher level education!