New teacher brings a new out look to BHS
Teaching, surfing, and traveling are only a few things that science teacher Kelsey Johnson, enjoys to do with her free time.
Hang on for a minute...we're trying to find some more stories you might like.
Teaching, surfing, and traveling are only a few things that science teacher Kelsey Johnson, enjoys to do with her free time.
This school year, BHS welcomed a new staff member, Mrs. Johnson. She is fresh out of Farmington and loves to bring her positive attitude and creativeness to school everyday.
Johnson strongly believes that you should make sure that your career is something that you feel passionate about. She feels as though her teaching career is what is right for her.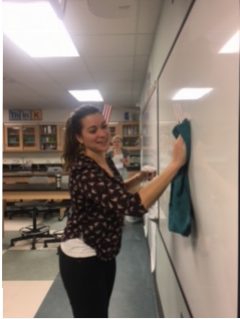 "I love my day to day life," said Johnson. "I love being creative and coming up with new ideas to help student learn. I also get to interact with so many different types of people, and a lot of them are really funny."
However, she didn't start off as a teacher. In fact, she realized she wanted to be a teacher after a few previous jobs.
"Right out of college I had a degree in environmental science," said Johnson. "I did a lot of outdoor education where I would tell people about the environment.  [At one of my jobs] I worked at a farm in New York, where I taught a lot of kids things about the farm."
Since she worked in a handful of jobs with her degree, she was able realize the parts that she enjoyed, and the parts that she did not enjoy.
"In all of those jobs education was a major piece in it," said Johnson. "That was the part that I really enjoyed, and looked forward to doing. The other pieces did not excite me as much."
According to many students, Johnson's love for teaching shows through all of classes she teaches.  Senior Hope Wakefield believes Johnson's love for teaching help her love the subject she is learning about.
"I can tell that she loves [teaching] because she is always in the school mood," said Wakefield. "She always gives us big projects to do that I don't mind doing, since they are kind of fun.  Her good mood rubs off on everyone."
Besides her love for teachings, Johnson is also interested in many of her other hobbies.
"When I am not in school, I am pretty ordinary," said Johnson. "I like to garden, decorate, surf and travel."
Traveling is something that Johnson has always loved to do.  In fact, she has traveled to about 10 different countries.
"I like to travel places where you get to spend a long period of time, so that you can get into the groove there, said Johnson." "I have had the chance to do this in places like Mexico and Costa Rica  where I got to experience life."
In many of these places, Johnson was able to pick up on different types of cultures.  She believes that this has really helped shape who she is as a person today — especially since a lot of the places where she stayed were not luxurious.
"Having experiences like this has helped me appreciate the little things," said Johnson. "You don't realize how much you take simple things for granted. [Because of] these experiences I feel as though I am more present in life."
Johnson's husband sometimes joins her with her travels.  Like her, her husband also has a degree in environmental science. As a couple, they love spending their time near the water, especially surfing.
"We go surfing all of time," said Johnson. "I personally love it, it is such a good way to get my mind off things and just go out and have fun."
Surfing is not the only water activity that Johnson enjoys.  She actually loves all water activities including swimming and wakeboarding.  Johnson has won a few awards in wakeboarding in her younger years.
"I haven't really won a lot of awards in my life, but I won a few in wakeboarding," said Johnson. "I grew up by lakes, so we use to do a lot of that type of stuff."
With an interesting lifestyle like this, many of her students see her to be relatable.
"She is pretty cool," said Wakefield. "I like how she is so understandable and can talk to us about things that we are interested in.  She likes a lot of the things we [the class] do, so she is really fun to talk to."
Johnson also loves her new job here at BHS and wouldn't want to be anywhere else.  She hopes to continue teaching her for years to come.
"I really like BHS and the classes I am teaching," said Johnson. "I hope to stay here and keep on teaching science for a long time."